Sash-Type Insect Screens: The Original Flyscreen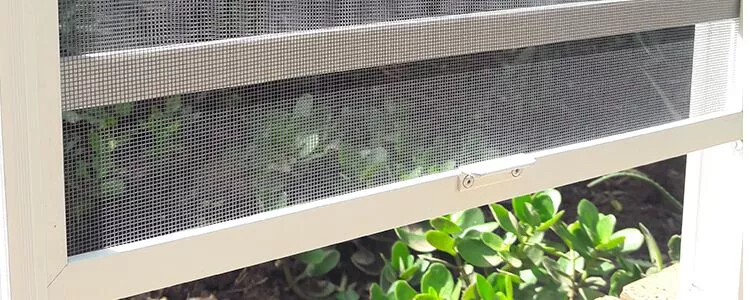 Sash-type insect screens are the type of window screens you might recall from your childhood. Their classic design has endured and there are many reasons why they're still so popular.
Let's explore what makes this insect screen an old favourite.
Design & Configuration of a Sash-Type Insect Screen
It's a simple design. One fixed panel and one moveable panel are placed within an aluminium frame that fits over the window.
If you have a top-hung window, the screen will slide up and down, giving you access to the window handle at the bottom.
But if you have a side-hung window, we install the screen vertically. That means the moveable panel slides from left to right so you can access the window handle on the side of the screen.

Features & Benefits of Sash-Type Insect Screens
You can install sash-type insect screens on existing aluminium and wood frames. But they still work best with the steel frames they were originally designed for.
Here are some other features and benefits of our sash-type insect screens you should know:
Easy to operate
Slide the moving screen out of the way to access the window handle and open your window. Then, pull the screen back across the opening for complete protection against pests.
Durable
A marine-grade powder coating protects the aluminium frame from exposure to the elements. Even the mesh (insect and pet) gets a coating of Polyvinylchlodrode (PVC) to protect it from the sun.
Easy to Install
Our sash-type screens are available as a DIY option. But you can always let our trained installation teams do all the work for you.
Easy to Clean & Maintain
You can wipe the aluminium frame down with a damp, soft cloth. And you can run your vacuum over the mesh to keep your screens sparkling. If the mesh tears or wears down over time, you can have the screens re-meshed.
Insect Mesh or Pet Mesh?
The sash-type screen design is one of three Flyscreen Supreme applications that also work with Pet Mesh.
Don't know the difference between Insect Mesh and Pet mesh? We cover it in detail in this article on Pet Screens.
But for now, you only need to know that Insect Mesh keeps pests (like flies, mosquitoes, moths and even spiders) out. Pet Mesh does all that and is strong enough to keep pets inside.
Sash-Type Insect Screen Anatomy
In the diagram, you'll see that our screens consist of four elements:
The aluminium frame
The two individual sashes – one fixed  and one moveable
Mesh
A small handle for operating the moveable screen
Dealing with Burglar Bars
Burglar bars are a common feature on steel windows. But you needn't worry about them getting in the way of your flyscreens. We have a solution for that.
When installing your screens, all we do is mark the position of the bars on the frame of the screen. We use these marks to cut out a small notch in the frame so it sits snugly against the bars. The screen forms a tight seal against the window, keeping bugs locked out. And the screen blends in with the window.
Install or DIY?
You can install our sash-type insect screens yourself. If you have steel windows, the screens can attach to your windows with clips.
You'll need some tools such as a drill and screwdriver for wood and aluminium frames. But it's very straightforward and we provide you with all the necessary screws and a set of instructions.
Or you can let our teams of trained installers install your screens, and we recommend this. Our installers have the tools and knowledge to fix any issues on-site immediately. And you can rest assured that your screens are correctly installed.
Looking for inexpensive, durable insect screens with an unobtrusive design? Our sash-type insect screens are the obvious choice and have been for decades. Get in touch with us today to request a quote for your home.
https://houseofsupreme.co.za/wp-content/uploads/2022/12/HOS-Blog-March-2022-Header.webp
300
750
Houseofsupreme
https://houseofsupreme.co.za/wp-content/uploads/2022/11/hos-logo-426x154-edit2.png
Houseofsupreme
2022-12-20 15:44:02
2023-02-08 14:37:18
Sash-Type Insect Screens: The Original Flyscreen